Buddy Stokes, Capt Frank and Walt Durkin enjoyed a week on the Reo Negro in the Amazon chasing peacock bass. Above left is an Arawana; looks like a slinky tarpon. Our hosts set up a practice camp one night on sand bar. This sand is quite like our beach sand; white and very fine.

One of four snook Ted Hagaman caught on a low tide morning on the Cypress flat. We found the snook laid up on the inside of the sand bar at the start of the incoming tide. You could sight fish them and a Puglici minnow did the trick.
Frank Rhodes and Steve Parker caught nice peacock bass and a blue tilapia in the Miami area.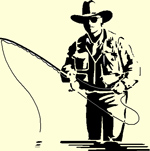 Club Meetings
6:00 pm
01/08/2014
02/05/2014
03/05/2014
04/02/2014
05/07/2014
06/04/2014
07/02/2014
08/06/2014
09/03/2014
10/01/2014
11/05/2014
12/03/2014
Board Meetings